Sandra Dufay
Board Member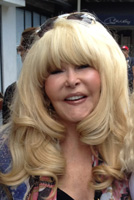 Sandra Dufay, originally from St Louis but has lived for many years in Coconut Grove Florida.
Having many friends and family in St Louis, as well as establishing an office here, has enabled her to maintain strong ties to our community and her hometown.
A graduate of the Jewish Hospital School of nursing, Sandra was a pioneer in the field of home health care founding one of the first home Health agencies in the country in 1973 and growing the business to over 30 agencies nationwide including the one in St Louis .
A very creative person, she has also created 2 clothing lines, one mfg in Bali and another mfg in Italy. Another project was the design and patent of a unique fashion watch that was mfg in china and sold thruout the US and abroad.
Always interested in the Arts and an avid lover of Broadway and all things theatrical, it seems a natural fit for Sandra to become involved with Max and Louie productions bringing with her a keen business acumen as well as creative input.