Synopsis
"Love, Linda" the one woman musical tour de force about the life of Mrs. Cole Porter runs January 17th through January 27th at the Marcelle Theater in The Grand Center Arts District.
Linda Lee Thomas was the Southern beauty who married and was the driving force behind legendary song writer Cole Porter at the dawn of the roaring twenties. Though Cole Porter was gay, their companionship and love lasted through 35 years of marriage and a spectacular, glamour-filled life.
With innovative jazz arrangements, the timeless music and lyrics of Cole Porter weave through "Love, Linda" examining the darker sides of their life, while also celebrating the deep love that blossomed through their unconventional relationship.
The score includes, "Night and Day", "I Love Paris", "In the Still of the Night" and "Love for Sale".
Debby Lennon, the St. Louis Theater Circle Award winner for "Outstanding Actress In A Musical" and "Outstanding Actress In A Comedy" stars as Mrs. Cole Porter with Broadway veteran Ken Page directing!
Cast
Debby Lennon* – Linda Porter
Production Staff
Ken Page** – Director
Greg Schweizer – Musical Director
Hannah Morris – Stage Manager
Tony Anselmo – Master Electrician
Kevin J Bowman – Production Manager
Dunsi Dai – Scene designer
Teresa Doggett – Costume Designer
Phillip Evans – Sound Designer & Engineer
Patrick Huber – Lighting Designer
Joseph M. Novak – Technical Director
Mike Stephens – Light Board Operator
Mari Star Turner – Assistant Scenic Designer
Maren Wander – Assistant Stage Manager
*Member of Actors' Equity Association
** SDC Stage Directors and Choreographers Society
Play Times and Venue
PREVIEW Thursday, 01/17/19

7:30 PM

OPENING Friday, 01/18/19

8:00 PM

Saturday, 01/19/19

8:00 PM

Sunday, 01/20/19

3:00 PM

Thursday, 01/24/19

7:30 PM

Friday, 01/25/19

8:00 PM

Saturday, 01/26/19

8:00 PM

Sunday, 01/27/19

3:00 PM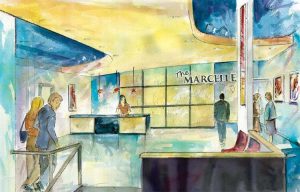 The Marcelle Theatre in Grand Center
3310 Samuel Shepard Drive
St. Louis, Missouri 63103
The Marcelle Theatre in Grand Center is located 3 blocks East of Grand Boulevard, just down the street from Powell Hall, and offers free lighted parking across the street.