Max & Louie Productions
Max & Louie Productions is a midsize non-profit theater company based in Saint Louis,Missouri.
Mission
Max & Louie Productions enhance lives through the arts by presenting bold, premier plays and musical dramas that entertain and challenge, bringing artists and audiences together in a shared experience that illuminates life through joy, wonder, laughter and tears.
Max & Louie Productions affirm our total commitment to fully support empathy, equity, diversity, and inclusion both on and off our stages.
History
In 2010 Stellie Siteman, a long time arts educator and actress, initiated plans to form a new theatre company, and researched the richly varied and very active St. Louis theatre scene to determine how the company could bring new perspectives to light. In this crowded field, Max & Louie Productions stands apart by focusing on presenting St. Louis premieres of plays and musical dramas that entertain, inspire, and challenge ingrained ways of thinking, encouraging audiences to embrace new points of view. Theatre has the potential to change how we see the world.
Strong organizational management, steadfast financial support from diverse sources, a balanced budget, along with a growing audience base both returning and new has allowed the company to make a positive difference in the community these past thirteen years.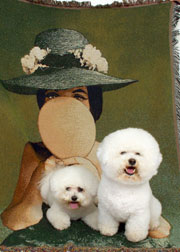 Max & Louie are not your average Vegas or New York producers; they are two adorable little Bichon Frieses.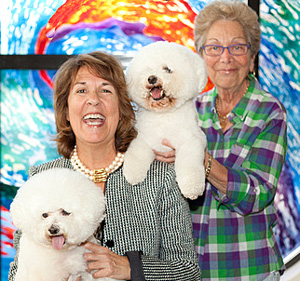 Artistic DIrector, Stellie Siteman (left) Managing Director, De Kaplan (right) with Max and Louie
On July 14th 2010 the first show presented by Max & Louie Productions,
It Had To Be You
, opened at the new black box theatre in the Jewish Community Center's Staenberg Family Complex in Creve Coeur. The response was gratifying. Critics and audiences responded so well that the company went right to work on their critically acclaimed second production of
The Lady with All The Answers
, which opened May 2011 at the black box theatre at COCA in the Delmar Loop. They carefully selected an eclectic group of enthusiastic board members and began work with VLAA (Volunteer Lawyers & Accountants for the Arts) to become a 501(c)3 arts organization, a status which was granted in May of 2011.