Max & Louie Productions
Max & Louie Productions is a midsize non-profit theater company based in Saint Louis,Missouri.
Mission
Max & Louie Productions enhances lives through the arts by presenting premiere plays and musicals, that entertain and challenge, bringing artists and audiences together in a shared experience that illuminates life through joy, wonder, laughter and truth.
History
In the summer of 2009 actress Stellie Siteman and director Sydnie Grosberg Ronga, both natives of St. Louis, examined the local theatre scene. After 40+ shared years of working in theatrical arts and education, they realized what a new theatre company could bring to the St. Louis arts community in this time of economic turndown. Throughout their research, they repeatedly discovered productions they longed to premiere in the St. Louis community; each tackling a bold issue while incorporating humor. Comedy and wit, they were convinced, were instrumental in allowing audiences to view and engage with important issues in an accessible manner. Humor allowed guards to be let down and minds to be opened. With that in mind, they formed Max & Louie Productions and decided that laughter would be the key to their productions. The urgent need in today's world for laughter and joy is compelling.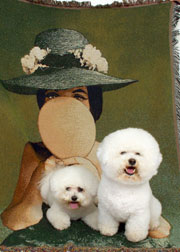 Max & Louie are not your average Vegas or New York producer's; they are two adorable little Bichon Friese's.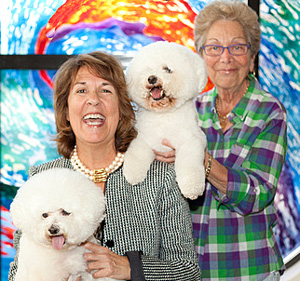 Artistic DIrector, Stellie Siteman (left) Managing Director, De Kaplan (right) with Max and Louie
On July 14th 2010 the first show presented by Max & Louie Productions,
It Had To Be You
, opened at the new black box theatre in the Jewish Community Center's Staenberg Family Complex in Creve Coeur. The response was gratifying. Critics and audiences responded so well that the company went right to work on their critically acclaimed second production of
The Lady with All The Answers
, which opened May 2011 at the black box theatre at COCA in the Delmar Loop. They carefully selected an eclectic group of enthusiastic board members and began work with VLAA (Volunteer Lawyers & Accountants for the Arts) to become a 501(c)3 arts organization, a status which was granted in May of 2011.