Sharon Hawthorne
Board of Directors, President of the Advisory Board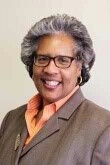 Sharon Hawthorne, a native Washingtonian, grew up studying many instruments but violin was her main concentration. An Alumni of the DCYOP (District of Columbia Youth Orchestra Program) where she studied violin, played with the orchestra at the White House, the Kennedy and Lincoln Centers, traveled internationally 3 times and played in an International orchestra conducted by Aaron Copeland. Sharon graduated from the University of Rochester (BA-Business/Photographic Arts) and studied privately at the Eastman School of Music with Peter Salaff from the Cleveland Quartet. She received her advanced professional degrees and certifications from Webster (MBA – International Business) and Villanova (Lean Six Sigma- Healthcare).
Professionally Sharon has been a member of the Presidents Circle at The John Hancock Companies, Business Manager for Rochelle G. Catus, Inc. – Women's Healthcare, Consultant for Private medical practices and medical technology companies, Director at Planned Parenthood and currently serves on a few Boards.
Sharon balances her life by continuously learning new things, golf, weight training, swimming, meditation and attending theater and performances throughout St Louis and New York. She is very happy to be joining the Advisory Board to lend her efforts in expanding the success and exposure of Max and Louie Productions.