Indecent
Website Review
Andrea Braun – STL Limelight, June 22, 2019
Aschs to Ashes: Max and Louie's Brilliant 'Indecent'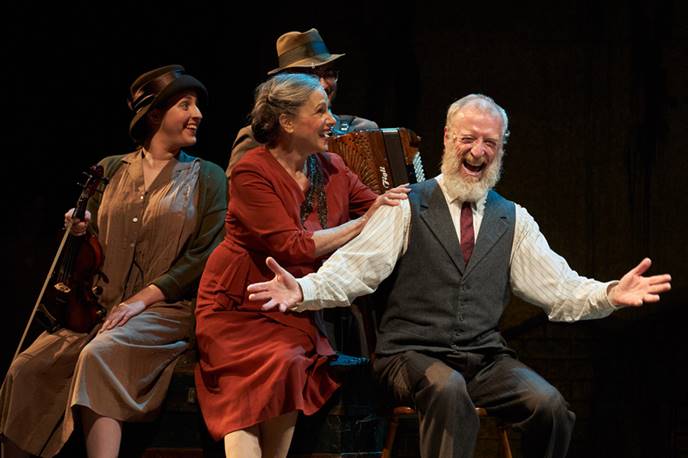 Indecent (2017) by Paula Vogel tells the story of a play written by the young Sholem Asch entitled God of Vengeance, first performed in 1907. It is presented as his first play, but it is actually his second; however, this and other departures from fact are described by Vogel as "emotional truth," rather than absolute historical accuracy.
"Vengeance" ran in Germany in the original Yiddish and was translated and traveled to several other countries, but then came America. At first, Asch's play ran off Broadway and stayed more or less under the radar. But when it moved uptown to the Apollo and the general public was going to be courted to buy tickets, as Vogel tells it, the script was changed without Asch's knowledge or permission because it contained "unacceptable" material.
For example, a Jewish man makes his living owning a house of prostitution while he and his wife and "virginal" daughter occupy an apartment upstairs. This was considered by American Jews to be anti-Semitic, since the Jewish procurer was a stereotype and would be reinforced in the general public's mind. So would the focus on making money any way possible. At one point, he becomes so furious he destroys a holy Torah, a great sin in Judaism. But most controversial of all was what became known as "the rain scene," in which the daughter kisses one of the prostitutes and they proclaim their love. To middle-class Americans, this is pornographic filth.
Asch is so depressed he can't leave his house. Finally, his loving and patient wife talks him into attending a rehearsal, but to him, the play is dead. The longtime stage manager, Lemml (Lou) also considers this is a disaster, and it's something they just cannot understand. Even stranger, the play is closed down by the police and the actors are arrested and tried, but the playwright and Lemml are not. Lemml tells Asch that he is going to take the play back to Poland and translate it back into Yiddish. He tells Asch, "I am tired of being in a country that laughs at the way I speak. They say America is free? What [sic] do you know here is free?"
And so he does and his troupe performs the play in cafes, attics, basements—anywhere that will have them until the Holocaust decimated the European Jewish community of artists and patrons. Asch himself returns after he's received an "invitation" from the House Un-American Activities Committee in the 1950s to live in London and write prolifically until he literally dies in the saddle, at his desk, writing. Before he leaves, he meets a young scholar from Yale whom he tells that he, Asch, "lost six million [who] have left the theater."
That's the plot, but now comes the hard part: telling you about the production, which is indescribably beautiful (but I'll try to describe it anyway). I haven't listed the names of actors who play the characters because they are all played by seven extraordinary performers who not only tell the story through words but also through song and dance.
They are accompanied on stage by a group of three Klezmer musicians, who play a violin, bass clarinet, and accordion to help express both the sadness and joy the audience and characters are experiencing. I've only seen four of the actors listed below (Judi Mann, Tim Schall, John Flack, and Paul Cereghino) but I've never witnessed any of them stronger or more sure of the material which makes them turn into other people on a dime.
The evocative music is directed by Ron McGowan, Ellen Isom choregraphs, Phillip Evans gets credit for sound, and Menachem Szus is the Yiddish dialect coach.It is a clever conceit to have titles on the rear wall to help us know where we are, and to have the actors use perfect English to speak their native languages and accented English when they are speaking a second or third language. The action spans Warsaw from 1906 to Bridgeport, Connecticut in the 1950s, and as the program notes, "everywhere in between."
It's difficult to write about Indecent without gushing, and I don't think I managed it. But you know what? It's brilliant in every way, so a little gushing is justified. It is both timely and timeless, and I hope you'll go see for yourself.