Indecent
Website Review
Mark Bretz – Ladue News, June 25, 2019
'Indecent' Is Beautifully Written Play Brilliantly Staged and Performed: Theater Review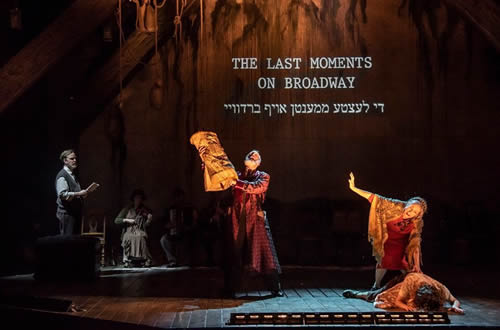 Story: Young Polish-Jewish writer Sholem Asch longs for his play, Got fun Nikome (The God of Vengeance) to be read by his mentor, acclaimed Yiddish writer I.L. Peretz. The drama focuses on the daughter of the Jewish owner of a brothel, who falls in love with a prostitute and incurs her father's wrath.
After Peretz and a number of other Jewish intellectuals read Asch's script – which includes a lesbian love scene and a character throwing the Torah to the floor in anger — Peretz advices Asch to burn his manuscript.
Instead, Asch travels to Berlin, where Jewish actor Rudolf Schildkraut and director Max Reinhardt stage a production in 1906. The show is a huge hit, prompting Asch to take it other European cities such as Moscow and St. Petersburg for presentations as well.
In 1907 a Yiddish production of Got fun Nikome achieves success in New York City, although several Yiddish newspapers condemn it as "immoral" and "indecent," while the radical Forverts publication champions its cause.
When the English version of The God of Vengeance finally takes the Broadway stage in 1923, the entire cast and producer Harry Weinberger are charged and convicted on charges of obscenity (convictions later dropped on appeal).
Upon their release, the cast takes its production back to Europe. Asch, who had moved to America in 1914, returns to Connecticut seriously depressed by the vicious anti-Semitism he had seen in eastern European pogroms while visiting as a member of the American Jewish Joint Distribution Committee.
Asch buries himself in his work as a novelist, turning away from playwrighting after seeing the devastating aftermath of The God of Vengeance by people considering it immoral. His former comrades in the play's troupe continue to perform it even as the threat of Nazi Germany grows, culminating in World War II and the genocide of six million European Jews.
Highlights: Max & Louie Productions' St. Louis premiere of Paula Vogel's taut, searing and beautifully written play is brilliantly staged and performed in its current production at the Grandel Theatre.
Other Info: Vogel's script, which is called "the true story of the little Jewish play" in a heading above the seated players at the beginning of the work, is the latest excellent drama to be performed locally that is based on little-known historic people and events.
It follows Silent Sky, about astronomy pioneer Henrietta Levitt and Photograph 51, which focuses on the work of largely forgotten scientist Rosalind Franklin. The recent film Hidden Figures (and an episode of the wonderful TV series, Timeless) dealt with the achievements of mathematician Katherine Johnson and other African-American women involved in NASA's early space program.
An excellent timeline in Max & Louie's program notes that Vogel was contacted by Rebecca Teichmann in 2010 for a possible collaboration on a play about the history of God of Vengeance. Teichmann then conceived and directed the original Broadway production of Indecent in 2017, winning a Tony Award for Best Direction.
Indecent is like a seven-course meal loaded with abundant albeit healthy calories. It's rich and thick in meaning and layers of philosophical and intellectual content, and surely would benefit from multiple viewings. The script is crisp and direct, the staging expertly devised and the performances of the utmost caliber.
Director Joanne Gordon shrewdly utilizes every theatrical facet available to her in Max & Louie's riveting, mesmerizing presentation, which runs nearly two hours in one smooth and surprisingly brisk act. Dunsi Dai's set is a wonder of its own, blending with Kevin Bowman's astute and telling projection designs to evoke the Europe and America of the early 20th century.
It's underscored with Patrick Huber's hauntingly poignant lighting, Stellie Siteman's carefully selected props and Philip Evans' wistful sound design, chilling in its own right. Teresa Doggett's costumes and wigs embody both the performers in the original God of Vengeance productions as well as the attire of the off-stage characters.
This is truly an ensemble effort in the best sense, in that no one player dominates the dialogue, although Paul Cereghino's turn as the troubled Asch comes closest. Cereghino's heartfelt interpretation is matched by John Flack's robust performances as Peretz, Schildkraut and the elder Asch in the 1950s.
Zoe Farmingdale is effective both as Asch's wife and as Rifkele, young daughter of the brothel owner, while Katie Karel excels as Jewish prostitute and Rifkele's lover Manke and as a German supremacist in Schildkraut's troupe.
Tim Schall does well as Broadway producer Harry Weinberger, Asch detractor Nakhman and others and Judi Mann capably handles the roles of Peretz's wife, troupe veteran Vera and more. TJ Lancaster is magnificent as the stage manager Lemml, who informs the audience at the start that "This is a story about the play that changed my life." Yiddish dialect coach Menachem Szus lends his expertise to the presentation, too.
Vogel masterfully works music and dance into her script, which is beautifully realized here under Ron McGowan's musical direction and Ellen Isom's simple but moving choreography. Gordon integrates the performances of musicians Nelly Friedman on violin, Morris Godowsky on accordion and Mayer Balsam on clarinet and mandolin seamlessly throughout the show.
Indecent is a penetrating, remarkable look at theatrical history and how art can survive even in the most savage of times. Max & Louie Productions' rendition is both an intellectual and emotional achievement of the highest rank.