Indecent
Website Review
Richard T. Green – Talkin' Broadway, June 22, 2019
There are a lot of wonderful moments in Paula Vogel's Indecent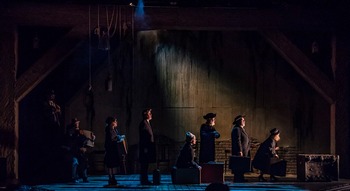 There's a wonderful moment (a lot of them, really, but let's start with this one) in Paula Vogel's Indecent, where the choreography changes briefly from the Old World to the New. The actors and musicians on stage, who've been wound up in protective Yiddish spirals of dance in the old country, are suddenly flattened into full-frontal poses when they come to America.
In fact, the whole play, now in production for Max & Louis Productions at the Grandel Theatre, could be said to revolve around a brave realization of self: in this early case, a circle of inward-looking Jewish performers, literally "huddled masses" from Central Europe, are uprooted and spread out for display in the jazz age of 1920s New York City. That's when they're briefly rearranged into something like ancient Egyptian hieroglyphs, in newfound flapper poses, free at last. And it's an entirely new mindset.
But not much later, Indecent becomes the true story of censorship on Broadway in the 1920s. It first debuted at the Yale Repertory Theatre in 2015, before an Off-Broadway run and (somewhat ironically) finding its way to Broadway in 2017. And (in spite of their freedom) a slight cringing feeling dogs Vogel's immigrant actors, especially when the scene shifts back and forth between the U.S. and Germany in the 1930s. Indecent's on-stage playwright Sholem Asch (the always excellent Paul Cereghino) is caught in between, as the author of God of Vengeance, which also, in fact, reached Broadway in 1923, before being shut down on obscenity charges. In the years before that, we watch as the play carries Asch's actors back and forth across Europe, and then to America, and finally back again. Strangely, even the U.S.A. isn't fully free in the 1920s. This local premiere is directed by Joanne Gordon, with choreography by Ellen Isom. They give us hope and love and excitement, but also a kind of freedom that never loses sight of ancient shackles.
And yet that conjured frisson also leads to a perpetual state of transcendence, or at least the struggle for it. It's not specifically a "Pride Month" offering, but it's a perfect choice for one. Zoe Farmingdale and Katie Karel play the young actresses in God of Vengeance, and their characters (who build toward a tender love scene together) trigger a vice raid on the theater that marks their Broadway debut. John Flack is majestic and delightful as their actor/manager, and Judi Mann provides unshakable support as his wife in the play-within-a-play. Before Broadway, Asch's melodrama grows grander and grander with repetition, as illustrated in one of the show's most delirious sequences.
Then a moral conundrum sends the actors back to Europe, against the rise of German socialism. All of them are shaken by anti-Semitic violence in the news, led by the likable but powerful TJ Lancaster as the group's stage manager. Lemml's life is transformed from the quiet, private world of a tailor to upholding the powerful statement of innocent love in their play. And, like The Diary of Anne Frank, these actors' final performance will be up in an attic before an S.S. raid. We see it coming, and then it comes, and then we're all on that cattle car together, all over again. One of the lessons here is that you're only in your own little show—until that moment when you're cast in a larger one. Then the force of history simply sweeps us off to the camps.
The tone is defiantly optimistic, even in the face of death. If you can whip up a rousing drama every night on ghetto stages all over Europe, you might just carry the life of that show with you, even into the unbearable line leading to the gas chambers. Some little corner of you may always be free, if only you can retain the muscle memory of it.