It Had To Be You
Website Review
Chris Gibson – BroadwayWorld.com, July 20, 2010
I'm not sure how I would react if I found myself in the same situation that Vito Pignoli finds himself in as the plot unfolds in Renee Taylor and Joseph Bologna's play It Had To Be You. I certainly wouldn't remain as calm and collected as he (mostly) does while being trapped inside the apartment of a kooky actress named Theda Blau, during a snowstorm on Christmas Eve. Actually, I kept thinking that, if this were a drama, events might suddenly take a very nasty turn at any given moment. Thankfully, they don't. If your interest is sufficiently piqued, then check out Max and Louie Productions' presentation of this quirky romantic comedy.
Apart from their work in films, Taylor and Bologna are probably best known for writing Lovers and Other Strangers, a dated, but interesting collection of relationship comedies that still gets performed from time to time. In this piece from the early 1980's, we follow an aging actress/playwright who draws the attention of a TV producer/director during the bizarre and revealing commercial audition that opens the show. Theda is immediately smitten with Vito, and feels that she can't let him out of her sight or she'll risk losing him forever. Forget about the fact that they've only just met. Once he comes up to her apartment a series of highly unlikely events transpire that can only climax with an equally improbable wedding proposal. But, love is funny that way, isn't it?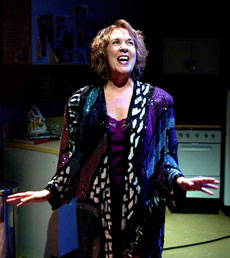 The real reason to see this show are the performances of Stellie Siteman and Jerry Vogel as Theda and Vito, respectively. Siteman manages to turn a role written as a patchwork quilt of emotional baggage into something far more engaging and likable. Vogel also manages to imbue this stereotypically "charming and successful, but emotionally empty" part with surprising depth. Together, they make the improbable probable. Scott James Smith also contributes nicely in a vocal cameo as Freddy, the director at Theda's audition.
Director Sydnie Grosberg Ronga draws fine work from this cast, and keeps the action moving at a reasonable pace. Christopher Waller's set design has a nice "lived in" look, and Glenn Dunn's lighting neatly captures the mood, as well as both character's asides to the audience.