It Had To Be You
Newspaper Review
By Dennis Brown – Riverfront Times, July 21, 2010
What are the odds that two shows, both set on Christmas Eve in New York City, would open in St. Louis on the same steamy weekend in July? Don't bet against it. It Had to Be You is an obscure comedy that doesn't get staged very often; Promises, Promises is a wistful musical that doesn't get staged often enough. They share almost nothing in common, except that in both the December chill is just offstage.
It Had to Be You is a formulaic two-character comedy written by, for and mostly about Renée Taylor and Joseph Bologna, the husband and wife who apparently grow impatient waiting for scripts to arrive, so they write their own. Their first offering, Lovers and Other Strangers, was mildly received on Broadway, but its 1970 film adaptation was a deserved hit. Their next realized production was It Had to Be You.
The plot, which might have been influenced by the classic comedy The Man Who Came to Dinner, revolves around Theda Blau, an eccentric actress who writes bizarre plays on the side. At a television audition on Christmas Eve, the ramshackle Theda meets suave producer Vito Pignoli. (Sound Italian? So does Bologna.) What happens next is fairly predictable in an unpredictable kind of way — which is to say that we know where Theda and Vito are going to end up; we just don't know the specifics of how they're going to get there. There's nothing of substance here; It Had to Be You offers the most inoffensive kind of escapist fare. And yet, on a hot summer night, a Christmas comedy can feel downright cooling.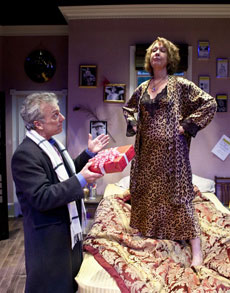 As actors, neither Taylor nor Bologna is known for understatement. (Bologna once said, "You're only as good as your last joke.") So it's no great stretch to imagine that on Broadway this piece was a series of set-up jokes and punch lines. Yet in this current staging, directed by Sydnie Grosberg Ronga for a new company called Max & Louie Productions, there are very few punch lines; the laughs instead seem to flow naturally, of their own accord. The performers, Stellie Siteman and Jerry Vogel, never assault or harangue us; they are pleasant company. Vogel is mostly the straight man. Although he seems to shrink three inches during the intermission (Vito has this back problem, you see), mostly he is called upon to respond to Theda's nuttiness. If Bologna surely responded loudly, as is his wont, Vogel tends to respond through understatement, which is agreeable and appealing.
As the mercurial Theda, Siteman reminds us anew of what a consummate character actress she is. Siteman doesn't work a lot these days. (Has she ever? In perusing the RFT archives, I happened upon a 1999 review of The Water Children in which reviewer Harry Weber complained that Siteman doesn't act enough.) But when she does, she's worth watching. Her instincts are true. I don't think I've ever heard her deliver a false line reading. And though she tends to select roles that seem closest to her own quirky personality, there's a world of rich parts awaiting her: Birdie in The Little Foxes and any number of featured characters in Chekhov. For now, though, we'll have to be content with Siteman's take on Renée Taylor.
Act Two of Promises, Promises, the Neil Simon/Burt Bacharach/Hal David musical that electrified Broadway in 1968, opens in a seedy New York City bar on Christmas Eve. Chuck Baxter, having just learned that the girl of his idealized dreams is actually having a sordid affair with their boss (and in Chuck's bed, no less), is drowning his sorrows in cheap booze when he meets Marge MacDougall, who doesn't think anyone should be alone on Christmas Eve — or any other night of the year, for that matter. For the next ten minutes, as Marge and Chuck romp through one of the funniest scenes Neil Simon ever wrote, this Stages St. Louis production is sheer bliss.
Marge has always been a gold mine of a role. Marian Mercer won the Tony Award when she created the part in 1968; last month Katie Finneran won the Tony for the current Broadway revival. Here, the unsinkable Brandi Wooten, the pride of Hannibal, Missouri, has a field day savoring Simon's lines. Wooten has an equilibrium all her own. In permanent danger of tipping over, she makes the Leaning Tower of Pisa seem straight. Her back is arched so as to make us think she's spent her life carrying a bass drum in a marching band. But Wooten doesn't need a drum; she is her own all-girl band, pitched to brassy perfection. She knows how to be expansive without being excessive.
As Chuck, he of the broken heart, Ben Nordstrom seems relieved to finally be sharing the stage with another actor. Prior to Marge's welcome arrival, the entire first act was essentially a one-man show. The other key performances range from miscast to heavy handed to cringe inducing, resulting in a musical comedy that till now has been cheerless and mirthless. Which makes no sense at all, because the source material, Billy Wilder's wicked 1960 satire The Apartment, is a perfect movie. Do you want to make this material work? All you have to do is watch and borrow. But here we get the feeling that no one has seen the movie or wants to. The sets range between dreary and distracting, the costumes are bland — and sometimes inexplicably wrong. When Billy Wilder and Neil Simon's scripts both call for Chuck to wear an executive homburg, why is Nordstrom saddled with a ridiculous hick hat that even Pa Kettle would have shunned?