It Had To Be You
Newspaper Review
Mark Bretz – Ladue News, July 22, 2010
Story: Theda Blau is one of those lost souls who does all she can just to live in the moment. She's a wannabe playwright and a 'B' list actress at best who's dabbled in some low-rate feature films when she lived in L.A. Now, she's back in New York City auditioning for some commercials on Christmas Eve. She's not exactly what the advertising agency has in mind, but she is let down gently by Vito Pignoli, one of the interviewers. He even gives her a ride to her apartment and helps carry her packages to her door.
He then makes the mistake of entering her rumpled pad. As a snowstorm pops up and blankets the area, Vito reluctantly spends the night, shares Theda's bed and, to his exasperation and perplexity, improbably becomes involved in her ragtag existence with surprising results in this more or less comic version of Stephen King's harrowing tale, "Misery."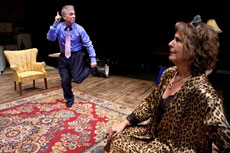 Highlights: This 1980, two-character comedy penned by wife and husband Renee Taylor and Joseph Bologna is a perfect vehicle for the inaugural presentation of a new troupe called Max & Louie Productions, which promises "to bring laughter to the stage with every production" at its home in the newly opened Marvin & Harlene Wool Studio Theater at the JCC.
The comedy is broad and the situations are ridiculous, but Taylor and Bologna had a knack back in the '70s for penning light romantic works such as "Lovers and Other Strangers" that struck the funny bone of mainstream audiences. This script, undoubtedly written mostly by Taylor with its female perspective, provides a showcase that handsomely demonstrates the comedic talents of its two players, Stellie Siteman and Jerry Vogel.
Other Info: Director Sydnie Grosberg Ronga is fortunate to enlist the services of two such endearing and effervescent players to help get the audience past the goofy elements of the script. Ronga's pace keeps the show moving briskly enough to prevent the audience from questioning plot elements, at least not too often.
Siteman brings out the wackiness of her character in a series of ridiculous scenes, keeping Theda zany without going over the top and even allowing for a particularly poignant scene late in the second act referring to her family. Vogel, always a fine actor, stays primarily within his slick Everyman persona, allowing the absurd comedy to play out through a mostly restrained approach that defers to Theda's broader elements. Even when the situation gets more implausible, his geniality and humanity make it all seem remotely plausible.
Christopher Waller's messy, cluttered set fits Theda's scatterbrained personality and is handsomely lit by Glenn Dunn's lighting, most appealing in its late-night illumination, with sound effects by Rusty Wandall that complement the proceedings. Scott James Smith provides the off-stage voice of the ad agency director at Theda's audition.
As great theater, "It Had to Be You" is substantially short of the mark. As entertainment with its share of amusing moments, however, it hits the target, thanks to the talents of its two amiable performers.