The Lady With All The Answers
Newspaper Review
Judith Newmark – St. Louis Post-Dispatch, May 15, 2011
Ann Landers' letters inspire one-woman show
In the course of her long career as an advice columnist, Ann Landers heard from readers struggling with every problem under the sun. There were unhappily married adults and suicidal teens, furious feuding neighbors and terrified pregnant girls.
And then there were the people who didn't like the way their relatives hung a roll of toilet paper.
In "The Lady with All the Answers," a charming one-woman show that stars Stellie Siteman, something curious emerges. All the problems — big, life-changing crises and idiotic nonsense issues alike — matter deeply to the people involved.
Still more curious: Many of them continue to resonate today, 56 years after she started writing the column.
Those letters, which poured in for almost 50 years, are the basis of the play, written by David Rambo with the cooperation of Landers' daughter, Margo Howard. Unlike many one-actor shows, this one comes in two acts. But it's not very long, and it moves fast.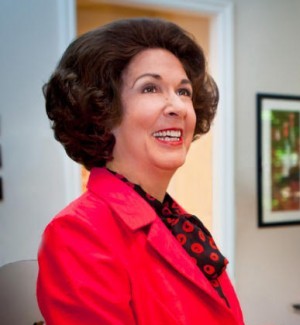 Rambo sets the play on a night in 1975 when Ann (whose real name was Eppie Friedman Lederer) reflects on her life and her work in the face of a personal crisis. Ostensibly alone, she speaks to us, the audience. Evidently we're right there with her in her study.
The device is a little odd but it makes a kind of sense. Landers spent her professional life in exchanges with people she didn't see or know; Rambo's structure echoes those conversations.
"What kind of a nut writes to a newspaper for advice?" Siteman wonders, at home with the snappy vernacular that made Landers so different from the 'sob sisters" who preceded her. But not everybody had a "geranium in the cranium." Mostly, they just wanted somebody to listen.
Ann did that thoughtfully, but here, she mostly talks. Siteman captures just enough of Ann's unusual "rocks in the mouth" voice to reflect the woman, not so much that it's distracting. She has a nice feel for Ann's frank self-confidence and her sense of humor, reading through old letters with dry wit and eyes alike.
Director Sydnie Grosberg Ronga never lets things turn static; at one point, Ann shows us her calisthenics routine, if not a theatrical first then a first in a red silk pantsuit.
The play benefits from Christopher M. Waller's ladylike set, Glenn M. Dunn's soft lighting, and more sensory stimulation than the theater usually provides. How often does a play give you a whiff of Chanel No. 5? Or a chance to hear the solidly productive clack-clack-clack of a typewriter? Those elements, which helped define Landers' world, help her audience inhabit it, too.